Import & Export
We aim to become the Best Supplier through our Grobal Network.
Delivery, Quality and Cost, we supply the material based on the customer's requirements from all over the world. There appears many kinds of requirements from the customers these days, we try to find the best supplier through our network from Asian and European countries,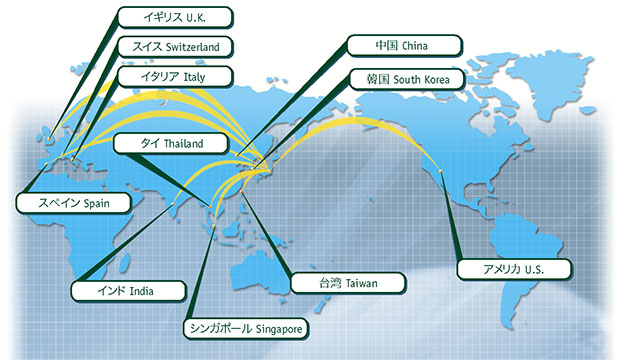 @ We are the agent of the manufacturers below. When you need the information about them, please contct us.

We have a sales office in Busan, Korea and the business with Korea and China is incresing recently.
Metallurgica Calvi S.p.A
The best profile cold drawn company in Europe lacated in Milano area Italy. It has a system of hot rolling and hot extrusion as well.

Siderval s.p.a
No. 1 hot extrusion company located in near Como Lake, Italy. All kind of steel grade is available.

Rollvis SA, Switzerland
Specialized in Roller Screw manufacturing. Sutable for Heavy Load and Precise Application.

KDRDPfiffner AG
Sophisticated Rotaly Machine with high efficiency and precise application. IT works by hydraulic and suitable for big quantity production. It has no competitor in Japan.

Hot Forgins

We import from Korea, China and Taiwa. We have many good partners with long history. Cost is competitive and the quality is agreable.

Hot rolled profile

We import from Europe nto only from Asian countries